Aluminium production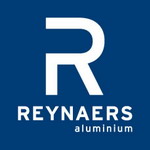 Aluminium is one of our newer production programmes. We started to develop the Aluminium production programme from the year 2003, at the time we completed a production line for purpose. The new production line brought into our manufacture faster and higher-quality production, fulfilling thus our aims.
We are processing the complex Reynaers system on the production line, all customized. The production is implemented from the Belgian profile Reynaers, which is a well-known one thanks to its quality (ISO9001), good heat insulation and safety. The Reynaers system incorporates a 10-year profile warranty, i.e. on the profile alloy, surface treatment, attributes of insulation and sealing arrangements.
We run production of any Reynaers profile, all the profile types for windows and doors are available in different renderings so to meet all the architectural trends.
We run customized supply of glass plates for windows and doors in all types, with various decoration lattices. (Also bulletproof glass)
Production and installation components:
Roofs
Winter gardens
Frontlet walls
Windows
Doors
Automatically adjustable doors
Adjustable doors
Sun shields
More information you can find here.
Call us !
Feel free to contact us via mail
info@cleansys.sk